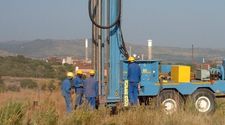 Many countries have disused sealed radioactive sources from medical and industrial use that are small in size but present a potentially significant radiological hazard. For more than a decade, Quintessa has been providing support to an International Atomic Energy Agency (IAEA) initiative to develop and implement a safe and secure borehole disposal route for these wastes.
In particular, Quintessa has taken the lead in developing a generic post-closure radiological safety assessment (GSA) for the borehole disposal concept with associated AMBER and QPAC models. The GSA highlights the concept's key safety features, under varying disposal system conditions, and supports the concept design and licensing processes. We also support the concept's site-specific implementation in a number of countries (such as Ghana, Malaysia and the Philippines) through safety assessment and software training, and peer review and advice.
Image courtesy of NECSA.