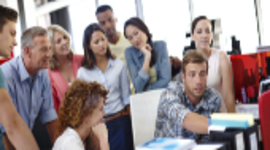 Quintessa provides training tailored to the needs of client personnel in all of our areas of expertise and in the application of associated software packages.
Training can take the form of interactive courses at client premises, our offices or the secondment of staff to Quintessa to work on a specific project. Recent training topics include:
environmental safety cases and performance assessment in support of geological and near-surface radioactive waste disposal;
performance assessments in support of nuclear site restoration and radioactively contaminated land;
decision analysis using Evidence Support Logic and TESLA; and
Features Events and Processes analysis for geological storage of carbon dioxide.
Quintessa staff are experienced lecturers and trainers, having delivered safety and performance assessment courses throughout the world, including expert training on behalf of the International Atomic Energy Agency and seminars contributing to postgraduate qualifications. At Quintessa, our goal is to build trusted relationships with clients, which is often engendered by integrating training with a consulting or software development project.