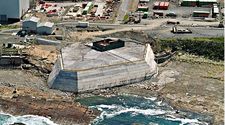 The D1225 "Shaft" at Dounreay is a historic facility for intermediate level radioactive waste. The 65 m deep vertical shaft doesn't meet modern standards for these types of waste, and so Dounreay Site Restoration Limited (DSRL) is working towards retrieving the 800 m3 of waste. This has included isolating the Shaft from the surrounding groundwater by grouting the fissures in the rock to form an impermeable curtain - an engineering feat that has won widespread acclaim.
From 2003 to 2009, Quintessa supported the project by evaluating the long-term safety of the Shaft. This has included developing and updating a Post-Closure Environmental Safety Case (PCESC) for the facility.
Information from the grouting process - which involved drilling over 200 boreholes around the Shaft - yielded a uniquely detailed picture of the contamination in the rock around the Shaft. This has been coupled with detailed analysis and modelling of the geological environment, and assessment of human health and environmental impacts, in the latest PCESC. The document, running to over 800 pages, presents a thorough evaluation of long-term effects of the contamination around the Shaft following retrieval of the waste, leading to robust conclusions about its safety.
Image courtesy of Dounreay Restoration Site Limited.