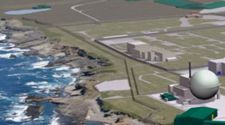 Dounreay in the north of Scotland is one of the most complex nuclear sites in the UK. Restoring the site involves the clean-up and demolition of the legacy of over 50 years work on fast reactor technology - including chemical plants, reactors and waste management infrastructure. In 2000 the site was the first in the UK to publicly present a detailed strategy to clean up and close the site. Quintessa staff have helped Dounreay to develop the site restoration strategy, and have assisted the site in refining the plans, primarily focusing on optimising the management of waste and contaminated land, and evaluating the long-term safety of the site.
The scope of work carried out by Quintessa includes:
Development of an Environmental Safety Case (ESC) for the Dounreay site. This delivers the dual benefit of building confidence that the restored site will meet safety and environmental targets after closure, and providing information that helps to refine and improve the plans.
Assistance with the refining the site's restoration strategy. This involves taking into account stakeholder views (e.g. during the End State consultation) as well as advising on the implications of regulatory developments, assessing the long-term safety of clean-up options, and seeking to optimise the programme of restoration activities.
Using mathematical modelling tools to understand the Dounreay environment. This enables a better understanding of the behaviour of radionuclides and other contaminants (e.g. in groundwater), gives perspective on what aspects are important (e.g. the significance of coastal erosion) and provides a mechanism for quantitatively assessing long-term health risks to hypothetical future users of the site.
Developing technical and feasibility studies relating to decommissioning and site restoration. This work has included the facilitation and documentation of internal workshop sessions to explore strategic management options and participation in a number of stakeholder panel workshops.
Dounreay Site Restoration Limited (DSRL) has now begun a new phase of work that involves translating the End State vision into viable objectives for the closure of the site, and Quintessa has recently been awarded a contract to support to this work over the next three years.
Current and planned work involves working closely with DSRL to:
develop an understanding with the regulators and other stakeholders of the clean up objectives.
put in place the procedures and tools to enable DSRL to optimise its closure plan.
establish a well founded case that measures currently being planned and implemented will result in the closed site achieving the required standards for safety in the long term.
The image (copyright DSRL and NDA) is an artist's impression of how Dounreay could look once decommissioning has been completed, when only stored wastes and closed disposal facilities remain. It is also assumed that the sphere is retained as a historic building.
Image copyright of Dounreay Site Restoration Ltd and NDA.