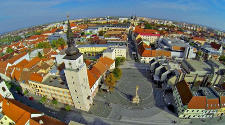 Part of the mission of the International Atomic Energy Agency (IAEA) is to support knowledge sharing and training activities relating to all aspects of work with radiation. Quintessa staff regularly provide technical experts for IAEA Missions to a wide range of countries, mainly to support their developing expertise in radioactive waste management and disposal.
In October 2017, James Penfold spent four days with representatives from Slovakia's VUJE and DECOM organisations, sharing his experience of postclosure safety assessment. The meetings were based in Trnava, one of the oldest cities in Slovakia and, with its city walls and many churches, known as "parva Roma" or "Little Rome".
Slovakia has a well-developed nuclear industry and infrastructure, with nuclear electricity accounting for around half of the country's needs. Particular areas of emphasis during the mission included the application of the IAEA's recommended systematic approach to safety assessment, and practical examples of its application to clearance of radioactive material, near-surface and geological disposal.
For more on Quintessa's training and workshop capabilities please contact Russell Walke.
Image courtesy of Pavel Briatka.