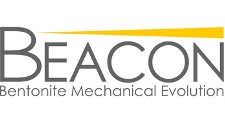 In May 2018, Quintessa attended the first Annual Meeting of the Euratom Beacon (Bentonite Mechanical Evolution) project in Milos, Greece.
The Beacon project has been set up to study the performance of inhomogeneous bentonite barriers in proposed geological repositories for high level radioactive waste and spent fuel across Europe. A key aspect of the performance of bentonite barriers is how the bentonite evolves from its installed state to become a fully functioning long-term barrier. Developing predictive capabilities of the mechanical behaviour of bentonite buffers, seals and backfills is a common need for all radioactive waste disposal programmes that use bentonite in one or more engineered barrier system (EBS) components.
Quintessa is a partner in the Beacon project and produced the first deliverable report – a review of data and models on the mechanical properties of bentonite available at the start of the project. This report summarises current understanding and modelling approaches for bentonite mechanical evolution, and provides a compilation of relevant experiments.
At the Annual Meeting, partners presented modelling and experimental progress and discussed the future direction of the project. Quintessa, alongside other partners, presented a hydro-mechanical model of two laboratory swelling experiments run by Clay Technology AB as a benchmarking exercise. These models were developed in QPAC and are based on Quintessa's hydro-mechanical model of bentonite which was developed during DECOVALEX (Thatcher et al. 2016). Quintessa aims to develop its bentonite modelling capabilities further during the Beacon project.
This project receives funding from the Euratom research and training programme 2014-2018 under grant agreement No 745942.