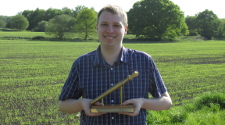 Quintessa's employees are known for more than just science! Over the festive period BBC Radio 5 Live invited Simon Rookyard onto the airwaves to talk about one of his more unusual areas of interest; porridge.
Simon, a former World Porridge-Making Champion and pictured with the World champion's Golden Spurtle, was on the station's Drive show to discuss the delights and health benefits of the humble oat. The show's presenters also got to try out two of Simon's recipes, the traditional salted porridge and a sweet pear and ginger version.
The show is available on the BBC iPlayer Radio until 28th January 2018 with the interview starting around 29 minutes in.