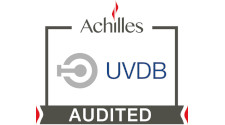 In order to work for certain clients such as EDF Energy, Quintessa needs to be on the Utilities Vendor Database (UVDB) which is maintained by Achilles. Quintessa's annual Achilles UVDB Verify audit was carried out on 30th May 2019, and we gained full marks.
We were assessed over 18 topics which are amalgamated under four main areas:
health and safety;
quality assurance;
environment;
corporate and social responsibility.
We received 100% in each topic with no non-compliances, observations or discrepancies. Two "positive elements" were highlighted in particular relating to our achievement in obtaining our Investors in People Gold Award and our ISO 27001(2013) accreditation during the last 12 months.
Quintessa's Managing Director, Richard Little, said:
We have been consistently scoring highly in each annual audit. I am delighted that our recent efforts to obtain ISO 27001 accreditation and our on-going Investors in People activities have helped us achieved top marks this year. The challenge will now be to maintain our high standards. I am sure that this is a challenge to which we will be able to rise.