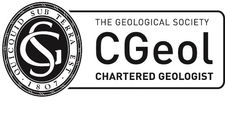 Quintessa is pleased to announce that Alex Bond was elected as a Chartered Scientist (CSci) and Chartered Geologist (CGeol) of the Geological Society on November 25th 2015.
The Chartered 'designation' is a professional title showing a scientific practitioner has been peer assessed as having key professional competencies and experience in their field of practice, with an ongoing commitment to continuing professional development (CPD). Moreover, the qualification also shows that the scientist has agreed to be bound by, and uphold, an enforceable code of conduct for all their professional practice.
Alex hopes that his recent experience of the process of becoming Chartered will encourage other staff at Quintessa to make the same commitment to their professional development and to reinforce the high professional standards that all Quintessa staff work to.