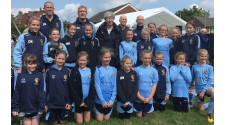 Quintessa is proud to be one of the sponsors of the Wargrave Women and Girls Football Club. With over 350 registered players, the Wargrave Women and Girls Football Club is possibly the largest dedicated girls' and women's football club in the UK.
Its high local and national profile has meant that the Wargrave Women and Girls Football Club won the Queen's Award for Voluntary Service in 2019. This is the highest award given to voluntary groups across the UK to recognise exceptional service within their communities and is equivalent to the MBE. Minister for Civil Society and Sport, Mims Davies, said:
"Volunteers make an incredible difference to so many people's lives and their communities. These prestigious awards recognise the wonderful work being done by many voluntary organisations across the country."
The good reputation of the club means that it attracts players from the surrounding area, including Reading and Maidenhead. Quintessa's Russell Walke volunteers as head coach for one of the age groups, observing that:
"I continue to be struck by just how positive it is for the girls to take part. It is very rewarding to see at first hand the growing confidence and wider friendships that being involved in a team sport fosters in the players."
Lead Image: Under 11's team with Club President Theresa May MP. Photo courtesy of R. Walke.