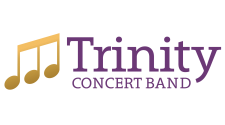 As well as being scientists, mathematicians and software developers, several of Quintessa's employees are also keen musicians. Rebecca Newson, clarinet player and Chair of Trinity Concert Band, recently participated in the National Concert Band Festival where the band won the top Platinum award.
Trinity Concert Band is a community wind band based in Earley, Berkshire. Rebecca Newson, a Senior Consultant at Quintessa, has been a member of the band since 2017 and has been its Chair since 2021. The band has also previously received support from Quintessa through Quintessa's Charitable Donations scheme.
On Saturday 15th April, Trinity Concert Band journeyed up to the Royal Northern College of Music for the finals of the National Concert Band Festival (NCBF). The festival is open to bands throughout the UK and aims to celebrate and promote the music of concert and jazz bands. Trinity Concert Band performed a selection of three pieces: New Beginnings by Rob Wiffin, Whispers from Beyond by Rossano Galante, and Armenian Dances by Alfred Reed. The band was delighted to receive the top Platinum award as well as an award from Trinity College London for 'Outstanding Performance' for the clarinet section.
Image Courtesy of Olivia Wild Digital.