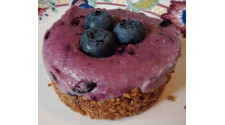 Quintessa's resident competitive porridge maker has been at it again, this time at the 2020 edition of the World Porridge Making Championship.
Simon Rookyard, who won the competition in 2015, was thrilled to be awarded joint 3rd place this year for his recipe, "Blueberry Cheesecake-style Porridge".
Due to current restrictions, this year's championship took place online instead of at its usual home in the Scottish highlands. Competitors from as far afield as Germany, Spain, Lithuania and Canada submitted a short video of themselves making their most delicious oatmeal-based recipe. These were then rated by a panel of expert porridge judges, based on appearance, execution, originality, flair and appeal. The top 10 recipes were announced on World Porridge Day (10th October).
The top 10 entries can be found on the Golden Spurtle facebook page.