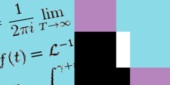 LATIN is a Laplace Transform Inverter tool that numerically inverts Laplace Transforms using the Talbot Algorithm. The results are displayed both graphically and in tabular format.
Laplace Transforms have a range of applications but are primarily used in solving differential equations by reducing them from a differential equation to a more easily solved algebraic equation. LATIN allows users to define Laplace Transforms for numerical inversion, and offers both quick and advanced features.
Please download LATIN by filling in the form below. You can also download the LATIN User Guide for further information about how to use the tool and the numerical inversion algorithm it employs. The use of LATIN is subject to the LATIN Terms and Conditions.
LATIN is provided as is and is not actively maintained.
Technical Information
Operating System

Windows Vista or later

System Requirements

Pentium III processor or higher recommended; 128 MB RAM recommended; 10 MB of free hard disk space for installation and running.

Date Published
Please do not hesitate to , should you have any queries.