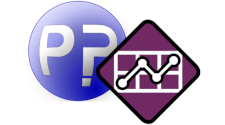 Quintessa has recently released updates for two of its free software tools, Graph Grabber and Portfolio Picker. Both new versions are available to download from the Quintessa website.
Following feedback from a user, Graph Grabber 2.0.2 was developed to offer an accessibility update. It now features the ability to export datasets in a MathTrax compatible format. (See Figure 1 and Figure 2). MathTrax is a data visualisation and sonification tool originally developed by NASA. It allows visually impaired students to access graphical data by generating both textual descriptions and sonic representations, which consist of a varying pitch that conveys the value and slope of the graph.
The new version also features an updated installer, which bundles Graph Grabber with its prerequisite software packages, streamlining the install process.
Portfolio Picker 1.1.1.3 is a bug fix and maintenance update which includes performance and security enhancements. In particular, there is improved Unicode support. The new version requires .NET 3.5 and has switched to per-user installation. Please see the release note for further details.
If you have a feature request, suggestion or bug report relating to any of our software, please let us know about it. You can do so via the contact link at the bottom of each software download page on the website.