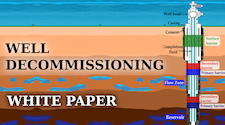 Quintessa has developed a White Paper highlighting the importance of well decommissioning in the transition to a net zero carbon-emitting economy.
The paper builds on Quintessa's extensive experience in providing leading-edge scientific, mathematical and strategic consultancy, scientific software development and research to facilitate a low carbon energy future, and provides background information on:
general characteristics of wells and decommissioning principles;
general requirements and timescales associated with well decommissioning, based on current regulations and guidance;
current well decommissioning approaches and specific considerations; and
key risk-relevant issues.
Quintessa's core services that might be deployed to help achieve cost-effective decommissioning, conducted in a safe and environmentally sustainable manner, are outlined in the White Paper. Please contact Renato Zagorscak if you would like a copy of the Well Decommissioning White Paper and to discuss these issues further.