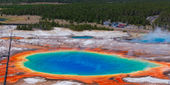 Quintessa provides geochemical modelling consultancy to support the planning and quantitative analysis of geochemical site characterisation and research programmes, and associated laboratory and field experiments.
Quintessa's geochemical modelling consulting capabilities and experience includes:
Acquisition of geochemical data
advising on appropriate groundwater and rock sampling locations;
advising on appropriate methods for sampling, preservation, storage and analysis of waters;
advising on appropriate methods for sampling, preservation, storage and analysis of rock samples;
interpretation of porewater data from low-permeability rocks (e.g. squeezed porewater samples from clays, leachates from crystalline rocks) in terms of in-situ porewater compositions;
assessment of data quality;and
auditing of laboratory facilities.
Modelling the chemical evolution of engineered materials
evolution of cements;
evolution of bentonite;
corrosion of metals;
cement-bentonite-metal-water interactions;
cement-rock-water and bentonite-rock-water interactions;
evolution of gas from wastes and engineered materials emplaced in sub-surface environments; and
groundwater quality evaluation, including: simulating the behaviour of inorganic pollutants in groundwater; and advising on chemical remediation methods.
Simulating the evolution of geothermal systems
high-temperature water-rock reactions;
formation scaling;
well scaling;
chemistry of discharged fluids; and
chemical interactions during re-injection of evolved fluids.
Palaeohydrogeological interpretation
interpretation of stable isotopic data (18O/16O, 34S/32S, 13C/12C, 37Cl etc) in terms of groundwater and solute origins;
interpretation of radiogenic isotopic data (14C, 36Cl, 81Kr, 3H, 3He/4He etc) in terms of groundwater residence times ('groundwater dating');
calculation of recharge temperatures from noble gas data; and
interpretation of mineralogical information in terms of past chemical conditions (e.g. pH and redox conditions) and groundwater flow patterns.
Thermodynamic database development, verification and testing
review of thermodynamic data;
testing and verification of thermodynamic databases;
addition of thermodynamic data to existing thermodynamic databases; and
reformatting of thermodynamic databases for different software packages.
Quintessa makes use of the standard geochemical and reactive transport software tools where they are most appropriate, and our in-house QPAC software for reactive transport problems, optionally coupled to thermal and mechanical processes, that are beyond the capability of standard codes.