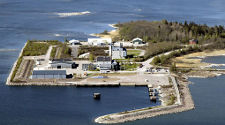 The Swedish Radiation Safety Authority (SSM), and its predecessors SKI and SSI, are responsible for reviewing safety assessments submitted by Swedish Nuclear Fuel and Waste Management Company (SKB) in support of the development of its disposal facilities, which comprise both LILW and SF. In some instances those assessments have been an integral part of a licence application.
In 2006, SKB submitted the SR-Can safety assessment in support of the development of a final repository for spent nuclear fuel. Although not part of the formal licensing process, the SR-Can assessment could be viewed as a preliminary version of the safety analysis that would be required in support of SKB's licence application to develop such a facility at a selected site, which was submitted as the SR-Site in 2011.
An important element of the authorities' review process was the commissioning of three international expert groups to carry out independent reviews of SR-Can, with a focus on the integration of site data, understanding of the engineered barrier system (EBS), and methodology for safety analysis. Quintessa staff played key role in this review process, with David Savage acting as chair of the EBS review group (published as SKI Report 2008:10), and Michael Egan as secretary for the methodology review group (published as SSI Report 2008:05).
Prior to the next assessment being issued by SKB, Quintessa continued to provide support to SKI, and then SSM, through independent assessment calculations relating to a range of technical issues raised by the safety assessment (e.g. SKI Report 2008:12, SSM Report 2011:12).
Following the submission of the SR-Site safety assessment associated with the licence application for the development of a spent fuel disposal facility at Forsmark in 2011, Quintessa again played a key role supporting regulatory review in the area of consequence analyses. Staff undertook independent reviews of the radionuclide transport aspects of the assessment modelling (SSM Report 2012:55; SSM Report 2014:55), and also the representation of the biosphere in the assessment (SSM Report 2014:34; SSM Report 2014:54). Part of this review included an evaluation as to the manner in which SKB's methodology had evolved since the SR-Can assessment.
In 2014, SKB submitted the SR-PSU safety assessment as part of the licence application to extend and continue to operate their SFR facility in Forsmark, which is a LILW disposal facility. Once again, staff at Quintessa are playing a key role supporting regulatory review in the area of consequence analyses (SSM Report 2016:09; SSM report 2017:28; SSM Report 2017:30; SSM Report 2017:33).
Both AMBER and QPAC have been used repeatedly to undertake calculations in support of these reviews.
Image Courtesy of SKB.