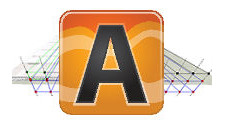 Quintessa is pleased to announce that the latest version of AMBER has been released. AMBER 6.5 offers users new functionality and a number of new features.
Users can now choose whether the time of the simulation, and the name of the parameter being rendered, are shown in the 3D view. By right-clicking in the main panel of the 3D View and selecting Rendering results options, a pop-up window appears in which you can toggle these two options on or off (see below).
AMBER 6.5 introduces the ability to play through, and export, a video of results rendered in AMBER's 3D View. When in the 3D view mode of the spatial model, the video playback and export functionality are accessed via a pair of buttons located with Rendering Results. It is also possible to modify the frame interval of the video via the Rendering results options pop-up window. When exporting a video this can be done either as an animated image file, or as a series of image files, one for each result time.
These capabilities offer unique functionality compared with similar software packages, and provide a powerful way of communicating results such as the concentration of contaminants in a spatial context.
AMBER 6.5 also includes a range of new features to support parameter import and other minor feature updates and various bug fixes.
Following user requests, we have begun to produce videos of the AMBER User Guide tutorials. These can be found on Quintessa Limited's YouTube page. Please subscribe so that you can be notified as the new tutorial videos are uploaded.
If you have a valid software maintenance agreement, please download AMBER 6.5. Alternatively download the free AMBER 6.5 Demo where you can evaluate its new functionality. If you would like to renew your maintenance agreement, please contact us.
For further information on AMBER please visit AMBER's home page.