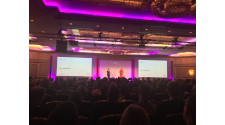 The 13th Employee Ownership Association (EOA) Annual Conference was held in Birmingham on the 19th and 20th November 2018. 650 participants took part in 29 seminars and workshops. Attending from Quintessa were Claire Watson, Kate Thatcher, Patricia Verrier, Mark Pogson and Emma Cairns.
Keynote speakers included Deb Oxley, CEO, Employee Ownership Association and Andy Street, Mayor of the West Midlands. Delegates took part in 29 breakout, networking and seminar sessions over the two days targeted at all stages in the employee ownership business cycle. The Gala dinner included the presentations of the 2018 UK Employee Ownership Awards. Conference highlights can be found on YouTube where Emma Cairns spoke about the conference from the point of view of a new employee owner.
Session topics included communication, business strategy, finance, employee morale and wellness in the workplace. The sessions promoted lively discussions and networking opportunities. Quintessa attendees found the conference interesting and informative and learnt that having a selection of plants in the office really does promote wellness in the workplace!