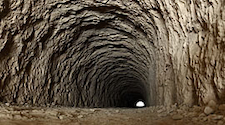 Quintessa's website has been evolving since its inception back in 1999, and we are pleased to announce that we have just launched the latest update to the design and contents of its "Subsurface Space" and "Software" sections.
As a leading-edge scientific, mathematical and strategy consultancy with a focus on the safety and environmental consequences of power generation, delivering services in the sustainable use of the subsurface space sector is key aspect of Quintessa's work. The latest website design update therefore brings a number of developments to the website, highlighting our growing services covering (Figure 1):
Carbon Capture, Usage and Storage;
Gas Storage and Usage;
Energy Storage;
Well Decommissioning;
Geothermal Energy;
Underground Infrastructure;
Hazardous Waste Disposal; and
Radioactive Waste Disposal.
The website has also been updated to reflect our expertise in using the BowTieXP software tool, which is commonly used for visualising and communicating risks and the steps that need to be undertaken to manage those risks in the associated assessments.
The latest updates provide website visitors with an important means of:
understanding our experience and expertise, and the key services we provide;
enabling people to identify relevant key Quintessa employees with leading edge expertise who can be contacted directly; and
accessing latest associated developments, products and publications produced by Quintessa.