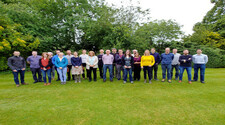 Quintessa are currently advertising for a new External Trustee Director to sit on the Employee Ownership Trust board from April 2022
Founded in 1999 as an employee-owned company, ownership of Quintessa Ltd passed from individual employees to an Employee Ownership Trust (EOT) in July 2014. The role of the Trustees is to ensure compliance with the Trust Deed, the main purpose of which is to guarantee that Quintessa continues as a successful, independent and professionally managed trading enterprise with an Employee Ownership Ethos.
The Trust Board is comprised of two Trustee Directors appointed by the company board, two Trustee Directors elected by the employees and two External Trustee Directors, one of whom is the founder of the company, David Hodgkinson. Quintessa's second External Trustee Director position is currently held by Ewan Hall of Baxendale. Ewan has been an External Trustee Director for Quintessa since April 2014 and his second four-year term comes to an end in April 2022. Ewan has provided extremely valuable contributions to Quintessa and the Trustee Board during this time. We would like to seek a new External Trustee Director to provide an independent perspective, fresh ideas and increase our network of contacts in the Employee Ownership sector.
Applications are now open for the External Trustee Director role. Further details about the position and criteria for candidates can be found on the Employee Ownership Association's EO Hub.