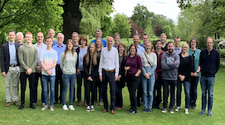 On 10th and 11th May Quintessa employees held an offsite meeting at Nailcote Hall Hotel, Coventry, which provided us with a wonderful opportunity to socialise in an enjoyable non-work environment.
It was the first time that all employees had had the chance to meet in person as a company since the COVID-19 pandemic and gave our newer recruits an opportunity to hear perspectives from across the company. It also allowed our newly appointed External Trustee Director, Ian Hiscock, to get to know all of us.
The meeting included sessions on business development, soft skills training, lessons learnt from working during the COVID-19 pandemic, and continuity and succession planning in Quintessa. Various employees put their skills to good use by coordinating the sessions and facilitating the associated discussions. There was also an opportunity to get involved in a strategy and leadership team building game (Level Up) which everyone did with great enthusiasm. Unfortunately the weather conspired against us on the second day which meant our Aunt Sally and Smite events had to wait for another time!
A common theme from the two days was that, as an employee-owned business, we have considerable control to shape the way we work and adapt to the current and future needs of employees and clients. This is an important factor in ensuring the happiness and wellbeing of employees, satisfaction of clients and the long-term success of the business.