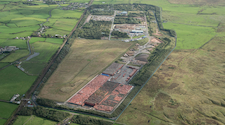 Quintessa is pleased to announce that it is one of five lead-contractors which have been selected to support the LLW Repository Ltd's Environmental Safety Case (ESC) Support Framework (Lot 2).
Lot 2 of the ESC framework covers the provision of general professional services to support LLW Repository Ltd's ESC Team in fulfilling its regulatory obligations and undertaking its forward work programme. This support covers the provision of suitably qualified people to support the delivery of scoped packages of work. The award of this framework marks the fourth consecutive time that a Quintessa-led team has been awarded an ESC Support Lot 2 Framework with LLW Repository Ltd. The Quintessa-led team includes AECOM, Golder Associates, NSG Environmental Ltd, Nuclear Technologies (a division of TUV SUD Ltd), Eadon Consulting and RadEcol Consulting Ltd.
Team members have supported the LLWR site for many years and, in particular, have provided significant support to LLW Repository Ltd's delivery of the 2011 Environmental Safety Case (ESC), and more recently the Enhanced Periodic Review ESC submission. The team has continued to provide a substantial level of support since then, for example in the areas of: engineering concept and closure design optimisation; long-term environmental safety assessments; engineering performance assessment methods; C-14 labelled gas assessment approaches including biosphere assessment methodologies; experimental testing and development of alternative grout formulation and oil encapsulation approaches; engineering barrier performance reviews; training in the GoldSim assessment code; and support to ESC-relevant projects for the National Waste Programme, amongst other areas.